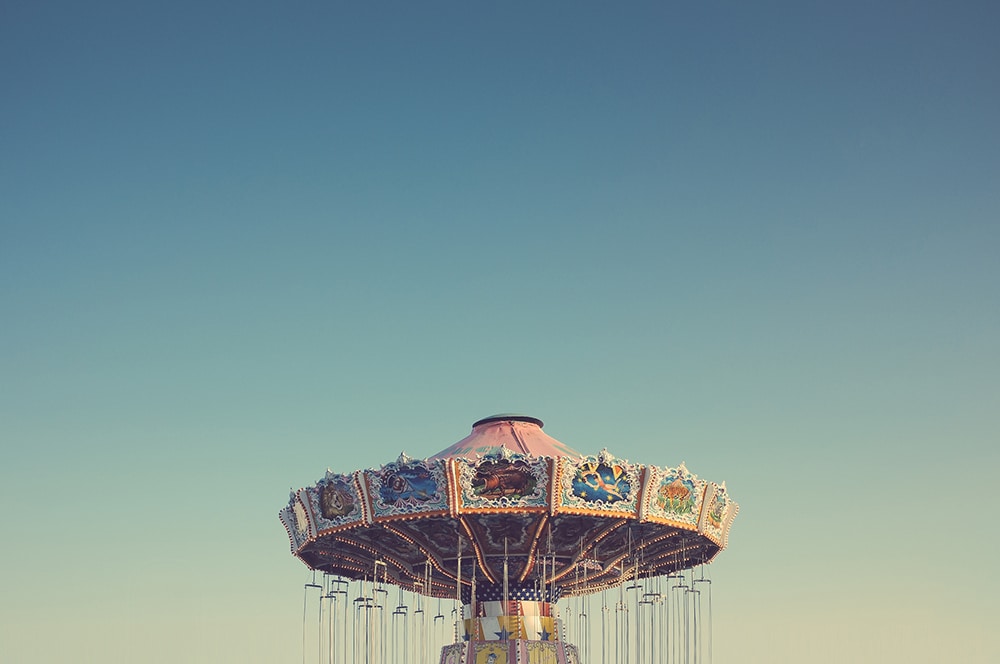 22 Atlanta Events You Can't Miss this Fall
---
Fall in Atlanta is a beautiful time of year. The leaves change, the weather is pleasant, and we begin planning for next year's Snowpocalypse. With the cold weather approaching, it's time to stock up on food, beer, and fun to keep you warm. And what better way to do that, than some well-placed festivals, parades, and events for Atlantans to flex their cultural muscle.
Atlanta Cheese Festival
Atlanta Botanical Garden – Oct. 3rd
Oh you fancy, huh? Well in that case, you're in the right place. This festival will feature cheese from the top 100 cheese makers from around the globe. Grab your dairy pills and come on down to the park!
Sunday in the Park
Oakland Cemetery – Oct. 5th
Kicking off the spookiest month of the year is a decidedly non-spooky event held at a somewhat-spooky location. Oakland Cemetery's Sunday fun day includes multiple stages of live music, food trucks, and a Victorian costume contest. If donning Victorian garb doesn't make you feel fancy enough, a ride on one of their carriage tours should do the trick.
A3C Hip hop Festival
All over Atlanta – Oct 8th-12th
The A3C (All 3 Coasts) festival boasts 500 different acts performing across Atlanta from Old Fourth Ward to East Atlanta Village. You may come for established acts like Talib Kweli, 2 Chainz, or Kid Capri, but you'll leave with a list of up-and-coming artists you'll want to tell all your friends about.
Atlanta Underground Film Festival
Reynoldstown – Oct. 9th-11th
Be a friend of the little man, and head to Reynoldstown's DooGallery for some great movies that don't feature million-dollar Michael Bay explosions.
Atlanta Greek Festival
Clairmont Rd. – Oct 9th-12th
Who has time for UGA frat boy jokes when there's all this delicious, hard-to-pronounce food to be had!? The real Greeks at the Greek Orthodox Church serve up their annual festival full of dancing, tasting, and plenty of "opa!" Icing on the cake: They have a "drive-thru" so you can get a taste of Greece on your lunch break.
Oakhurst Arts and Music Festival
Oakhurst Village – Oct 11th
See everything the Decatur arts community has to offer in the form of parades, live music, and local artist setups. There's even a 5K to start the day off, if you're really watching those calories, man.
Brookhaven Chili Cook-off
Brookhaven – Oct 11th
Ok. I know I don't have to sell you on $10 all-you-can eat chili from 60 different chefs, but if you were having any doubts, listen to this: The Brookhaven Chili Cook-Off has added Georgia's native dish, Brunswick Stew into the mix. Take that, every other chili festival in the world.
Stone Mountain Village Oktoberfest
Village Corner Restaurant – Oct. 11th-12th
Now here is a festival with two things everyone loves: beer and contests. Make sure to buy a ticket for their 6 hour beer tasting (any shorter and it wouldn't be German). After that, take part in their stein-holding or pretzel-eating contest. Or both.
Elevate Art
Downtown Atlanta – Oct. 17th-23rd
Elevate is a week-long event meant to improve cultural visibility in Downtown Atlanta through art and music. The week begins with an 8pm block party featuring installations and collaborations by a variety of artists. End the week with Dance Truck, which is exactly what it sounds like. For a full schedule of events check out http://www.elevateatlantaart.com/
Decatur Craft Beer Festival
Decatur Square – Oct. 18th
Find that next totally delicious beer that's from a really small microbrewery… you've probably never heard of it. Come drink with the bearded hipsters and baby-faced squares alike; everyone's welcome at this small (only 4000 tickets sold) festival, as long as you are 21 and don't ask for Budweiser.
L5P Halloween Parade
Little Five Points – Oct. 18th
There are two schools of thought when it comes to Little Five Points: People watch, or be watched by people. Whether you plan on getting weird or observing it, come on down to L5P and take part in the independent spirit that makes it one of the Southeast's most unique neighborhoods. Find a good seat for the parade, and you'll be the most popular person on Instagram.
Taste of Atlanta
Tech Square – Oct. 24th-26th
Behold my friends, the super bowl of food. Over 90 different restaurants and multiple stages for demonstrations and classes, Tech Square is the only place for a food lover to be that weekend. Don't eat the night before.
Boos and Brews
The Masquerade – Oct. 25th
One of Atlanta's most legendary music venues is throwing a costume contest/Halloween party/beer festival/haunted house. Come party with DJ's and Live music, and take part in their 11:30pm costume contest with cash prizes. Tickets get you discounted admission to their haunted house, the Chamber of Horrors. Oh yeah, there will be a SCARY amount of beer.
Georgia Craft Beer Festival
Candler Park – Oct. 25th
We know. You LOVE craft beer. It represents a commitment to taste, detail and workmanship, you just can't find in big beer. Well come celebrate the best kind of small business with 30 of the top breweries in Georgia at Candler Park.
Fernbank Boo-seum Trick or Treat
Fernbank – Oct 25th
Don't forget the kids! They're not only the future, but they deserve a bit of Atlanta culture too. Bring your little ones, in their Halloween best, over to Fernbank for candy, games, music and more!
ScoutMob's + The Goat Farm Halloween Party
The Goat Farm – Oct. 31st
Step 1: Find a hilarious costume. Step 2: Find the best party in Atlanta. Step 3: Go to said party. Scoutmob and The Goat Farm have got you covered for step 2, friends. Live music and live art installations, combined with one of the coolest venues in Atlanta, this annual party has become a can't-miss Halloween tradition.
Chomp and Stomp
Cabbagetown Park – Nov 1st
By now, you should have come out of the chili-induced coma the Brookhaven Chili Cook-Off left you in, and are ready for round two! This time we're going to Cabbagetown park for Chili, a 5k, and even a slaw eating contest (because it can never JUST be chili). Grab a $5 spoon and eat until you reach Thanksgiving.
Chastain Park Arts Festival
Chastain Park – Nov. 1st
One of our city's most pastoral venues, Chastain is hosting its 6th annual arts festival full of acoustic music, local food and drink, art and craft booths, and food trucks. Who doesn't love food trucks!
Decatur Wine Festival
Decatur Square – Nov 8th
Question- What's better than a wine festival a stone's throw away from a MARTA stop? Answer- A wine festival a stone's throw away from some of the best restaurants in Atlanta. Spend a few hours tasting wine and supporting Decatur Arts Alliance, and then stumble over to one of Decatur Square's heavy hitters like Iberian Pig.
Veteran's Day Parade
Downtown – Nov 8th
You are to report directly to Peachtree Street south of Ralph Mcgill promptly at 11:00 hours for a parade honoring our veterans of the Korean War. The parade route will go through downtown and end at Centennial Olympic Park. Over and out!
Whiskey's of the World Expo
Fox Theatre – Nov 8th
What better to keep you warm in the cold months than a nice glass of whiskey or three? This classy event involving hundreds of different whiskeys and food pairing is made even classier by The Fox Theatre hosting it. Drink a little, learn a little, and cap it all off with a cigar.
Garden Lights, Holiday Nights at The Botanical Garden
Piedmont Park – Nov 15th-Jan 3rd
Follow me here: The botanical garden is the crown jewel of Atlanta's crown jewel, Piedmont Park. Well, the botanical garden's crown jewel is Garden Lights, Holiday Nights. Which makes it the crown jewel of the crown jewel of the crown jewel. After you pick your brains up off the floor, head on down to the botanical garden at night to see it illuminated with vibrant colors and amazing sculptures.